Glass can make-or-break the look of your home! We've all seen windows and sliding doors in older homes that make us shudder, and for some of us, that's the view we're coming home to. Especially with Perth's housing market currently experiencing quite a boom and house prices expected to be on the upward trend for some time, many of us are looking to sell our homes or investment properties, while others have just acquired a new property – what may be their first home. 
Whether you've suddenly found yourself in possession of an older house with windows and doors that are dampening the excitement of your new purchase, you're selling a house to and hoping to get a good price, or you're simply wishing the view out your window looked less like something from That 70s Show, glass door and window upgrades really are a fantastic way to turn your home from meh to magnificent; and it's not just about the visual aspect, it's your comfort and quality of life as well. Find out why below.
Glass window upgrades
Older or cheaper windows can honestly be quite an eyesore, and we've had many a customer who've been very bothered by the aesthetics of their windows and thrilled with their new-look windows.  Here's a few before-and-after examples of window upgrade projects we've worked on, and how new windows can truly enhance the look of your home: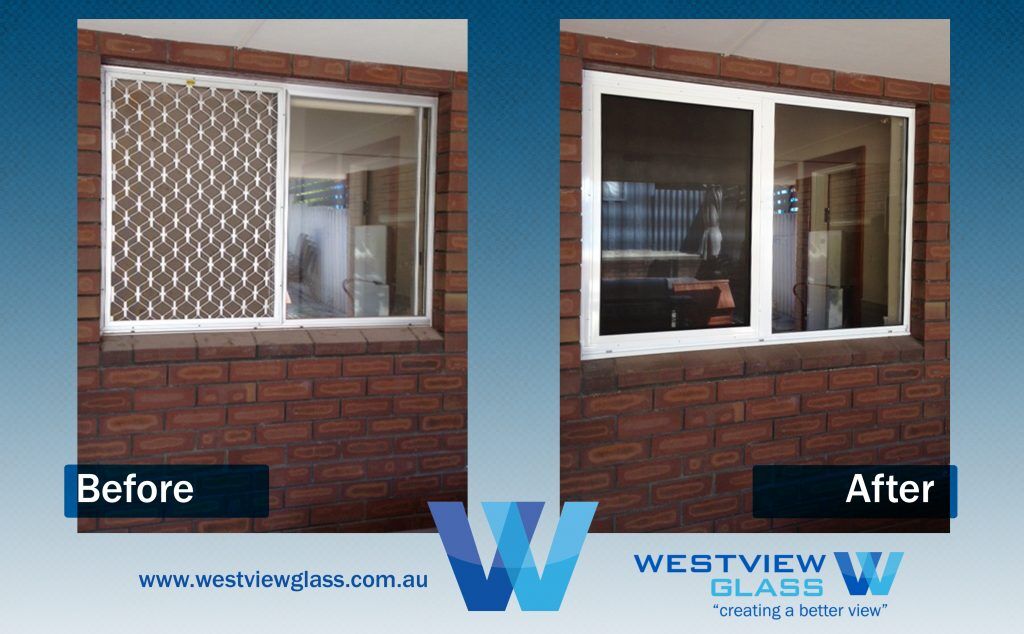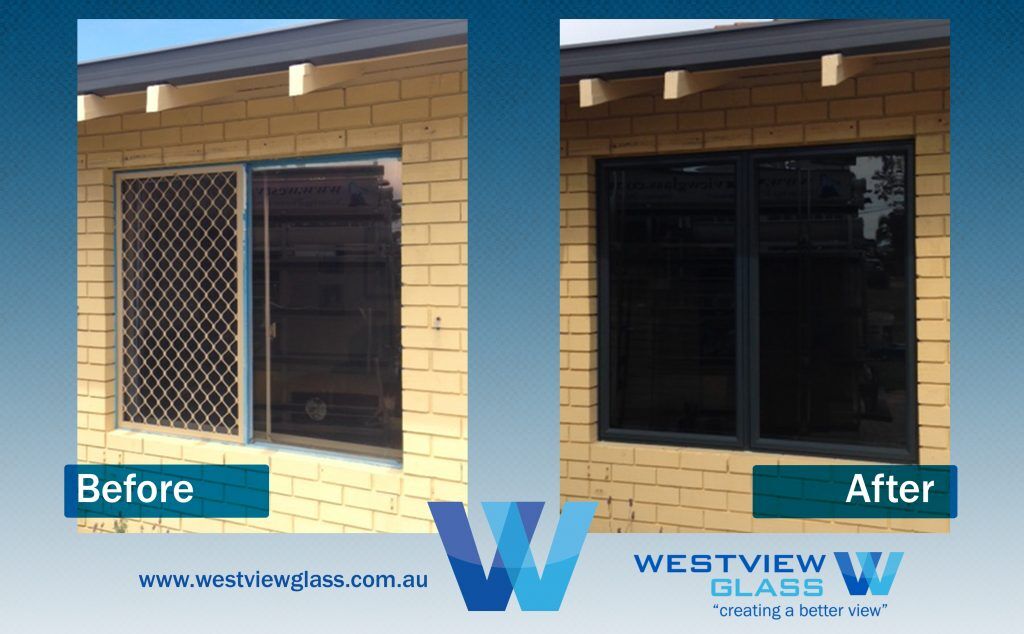 Gosh, that's better! But as with everything in life, it's not all about looks, you want a window that does the job; in particular, doesn't shatter easily when hit by a stray ball, gives you the level of privacy you need, and is effective from an insulation perspective. After all, up to 40% of a home's heating energy can be lost and up to 87% of its heat gained through windows (source: the statistics and sustainability-minded folks at yourhome.gov.au). This can represent considerable cost savings on your utility bills, significantly offsetting the costs of window upgrades in the long-term, as well as leaving a lower carbon footprint for future generations.
You also want a window frame that's the right type of window for your requirements; here at Westview Glass, we offer a beautiful range of sliding windows, awning windows, commercial-grade sliding windows and double-hung windows to suit your needs and your home. This year, we've opened our Wangara showroom and debuted a new aluminium window range; we now stock and install the entire range of Carinya aluminium windows, including their Classic and Select ranges. Here's some examples to inspire your next home reno!
Glass sliding door upgrades
Got an unsightly sliding door, or just imagining better views , brighter sunlight and improved accessibility for your home? Here at Westview Glass, we supply and install a variety of aluminium glass doors including glass sliding doors and multi stack doors that are perfect for wide doorways (leading out to your patio, for example). 
We've done some amazing sliding door upgrades, including putting sliding doors where they're a bit less expected: check out this garage-turned-studio upgrade maximising the living space of this client's home. From dark and dreary to bright and inviting!
And with tinted glass, you can also better enjoy fabulous views of your backyard or frontage, while still enjoying the privacy you deserve:
Outside doors are exposed to the elements and vulnerable to damage, which can really effect the look of your house; and especially in the case of older doors and wooden doors, they can make your home draughty and cost you a pretty penny on your utility bills. Furthermore, doors are an important safety and security consideration in your home; research from the US with convicted burglars shows that older window frames and cheap wooden doors make a house an ideal target, and that some burglars will just kick a door open (not something that you'd want to do with a glass door!) You can also replace existing glass with safety glass, making it more difficult to shatter – keeping your home more secure from crime, and your family more safe from accidents.
Finally, there's the look of your home: replacing a dated sliding glass door with one that's contemporary and chic can truly time-travel your property from the 1970s to the 2020s!
Choosing a glass sliding door and window installer for your glass upgrade project
You need a supplier that understands that your glass sliding doors and windows represent more than just a frame and panes. In fact, your glass sliding doors and windows are an essential component of protecting and beautifying your property.
We understand the effect that better sliding windows and windows can have on your quality of life every day. We keep these considerations in mind throughout the entire process, from assessing the project to the final touch, so our work exceeds expectations now and for years to come.
We at Westview Glass are the preferred glass sliding doors and windows supplier for many homeowners and business owners across the Perth metropolitan area.
Our team has over 30 years of combined experience in supplying and installing aluminium windows, and our windows come in a number of different glass types to suit your requirements. Our aluminium frames are also available in various coloured, powder-coated finishes to match the look of your home. For more information, review the different styles of windows we're able to install here, and the different types of doors we're able to install here; next, review information on tips for choosing an aluminium window installation, and find out why door replacement is the perfect facelift for your home. And keep an eye out on our blog for more windows & doors expertise!