There are many reasons to replace your shower curtain with a glass shower screen. For one, shower screens block water better than curtains do. They prevent water from pooling around your shower and damaging your floor. For another, they're safer-you can't accidentally pull them down like you can curtains.But the biggest reason to choose a glass shower screen? It simply looks beautiful. The transparent glass reflects the light and adds a touch of elegance to your bathroom.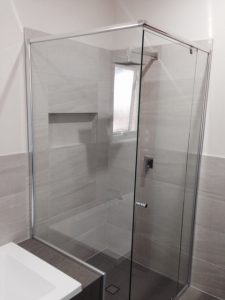 (Glass Shower Screen Installed By Westview Glass)
Perhaps you've hesitated buying a shower screen before because you worry about the difficulty of cleaning and maintaining it. We'll put your fears to rest by showing you how you can clean your shower screen in just five steps.
1. Gather Supplies
When it comes to cleaning products, you have several options to choose from.
Commercial bathroom cleaner: Choose a cleaner formulated to be both powerful and gentle. Make sure the product label says you can use it on shower doors. You may prefer a product that removes mould and mildew.
Powdered laundry detergent: Another option is to mix this powder with cold water. Powdered laundry detergent is inexpensive, and it cleans well.
Magic erasers: If you'd rather avoid cleaning chemicals entirely, use magic erasers; their fibres remove scum and grime.
If your shower door has rust, you'll also need a lemon juice/salt solution and a toothbrush (one you don't brush your teeth with, of course). Mix about 20 mL lemon juice with 40 mL salt.
To add a finishing touch to your shower, prepare a white vinegar solution with equal parts white vinegar and cold water. You'll also need a couple of clean cloths.
The most important supply when it comes to shower cleaning is a squeegee. A squeegee's long rubber blade moves easily across glass to wipe away water and dirt. Some squeegees also have a long sponge on the other side of the rubber blade.
2. Apply, Scrub, and Rinse
Now that you have your supplies ready, apply your desired solution to your shower door. Some commercial products require you to wait for a time. Make sure to follow their directions.
Now, use a cloth to scrub the solution from the shower screen.
Finally, use your shower head to rinse the shower door.
3. Remove Rust
Is your metal frame beginning to rust? Use a toothbrush to scrub the lemon juice/salt solution into every corner and crevice of the metal frame. Give the homemade cleaning solution a few minutes to soak in, and then rinse it off.
4. Shine the Glass
The final touch is to give your shower glass a shining, sparkling look. Using a new cloth, simply wipe your white vinegar solution on the shower door.
5. Maintain Your Screen
Do you want to reduce the frequency you need to clean your shower screen? Simply place a squeegee on or near the shower. Tell your family members that they must use the squeegee to wipe off water and residue after each time they shower. They should use straight horizontal or vertical strokes to completely remove all water and dirt.
If you and your family members clean your shower door after each shower, you'll prevent watermarks and mildew from building up on the shower. This cleaning task only takes a minute, but it's a minute well spent.
Buy the Right Shower Screen
Now that you can see how simple it is to clean a glass shower door, talk to a glass company about installing a new glass shower screen. The company will measure your shower area to ensure a perfect fit.
If you want to avoid cleaning as much as possible, ask the glass professional about obscure glass. This glass type has an etched design, making it harder for you to see marks on your screen.
Talk to our glass professionals today and choose your new shower screen.